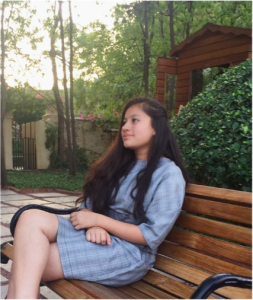 "In calmness, strength manifests."- This is the quote I live by and probably describes me the best. 
Hi, I am Shloka Shah, currently studying in the year 2 of IBDP in Fountainhead School, Surat. I was born on March 12th, 2002, and so, I am a Pisces. A typical one. I am an introvert, and I am extremely happy and comfortable being one. I live in a nuclear family, with my parents and my younger sister. One thing that I admire the most about myself is my contentment and thankfulness to my life and my power of being a good listener. I believe that listening is the key to most knowledge one acquires, and the solution to most problems one encounters. 
My biggest talent is my creativity and my note-taking skills. Other than this, I used to love to paint (a long lost hobby). I recently did my Arangetram in the Indian Classical dance form, Kuchipudi, which has helped me grow as a human being in all aspects of my life. 
One skill that I would really like to work upon is my communication skills because communicating is as important as listening. I am self-confident, however, I need to work on my confidence in conveying my thoughts, feelings, and ideas. 
I usually like spending my leisure time playing basketball, sitting with my family, hanging out with my close friends and going on self-dates. I love to be involved in giving back to society. It rewards me with immeasurable internal happiness and satisfaction. CAS (especially the service strand), therefore, has always been a great experience for me. 
My outlook on life is to keep it simple. Everything is eventually going to fall in place if you are true to yourself, if you don't give up, and if you never lose hope. My dream is to buy a house of my own one day. I am passionate about being independent and capable enough in life. I want to do something that can empower at least one woman in my life to believe in herself. 
I look forward to learning a new instrument and trying scuba diving someday, to feel the calmness of music and a world beneath the water.