Global Odyssey was an event organized in our school which was an integration of all our learnings from group 3, Humanities subjects and expected us to apply our knowledge in innovative ways. The event was divided into 4 major parts: Entertainment, Fashion and Cosmetics, Food, and Entrepreneurs. The main concepts focused on the event were: Innovation, ethics, globalization. I was assigned the group of Fashion and Cosmetics, wherein I had to apply my knowledge of Business Management and Psychology, the subjects I have chosen from group 3, and collaborate with students of their subject choices from group 3 and set up a stall of Fashion and Cosmetics together. Apart from this, I was also a part of the decoration team for the event. Through this CAS experience, I covered the Learning Outcomes 3, 6 and 7. 
Learning Outcome 3: Initiating and Planning a CAS experience. 
Fashion and Cosmetics is an extremely wide field, so the first thing we had to do was brainstorming and shortlisting our ideas. As a group, we had decided that we wanted to do something different than usual, to be able to stand out and attract more customers. This is the reason, we named our stall, Bend the Trend. To acknowledge everyone's ideas and also have a variety, we decided on one item per group member. These items had to be based on personal choice. Since I have always been a lover of bags, I wanted to produce and sell fashionable bags.
Our event was going to take place on the 14th of February, Valentines day, and our target customers were mainly senior school students and teachers too. So, we planned on making the entire look very bright, light and breezy. Some of us did have a clash of ideas, which made the process a little difficult, however, we came to a consensus after seeing what majority agrees on and what teachers had to say about it.  
It was a challenging task for me to keep myself organised throughout the planning and execution process because I had to work on my item, coordinate with my group, and also work on the decor.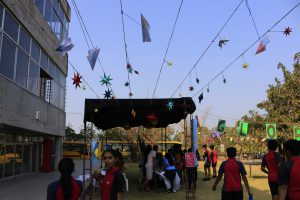 Learning Outcome 6: Demonstrate engagement with issues of global significance
My product, bags, were exceeding my budget of the cost price range I had pre decided. During this time, a ban on plastic bags was announced by the government too due to high rates of pollution. This ignited a thought of making recycled cloth bags which would look fashionable as well as have a variety of uses. I collected old clothes from teachers and students in my school and society and produced bags from those. They didn't only turn out to be fashionable, but also had a variety of uses, such as for carrying groceries bought from stores. 
I felt an amazing sense of satisfaction and happiness on being able to contribute towards saving the nature. Pollution due to plastic is at its highest, and helping the government in their mission of eliminating plastic made me feel proud. 
Other than this, girl trafficking has also been an extremely severe issue since a long time. We had a session about this too in school. There are several NGOs that are working towards spreading more awareness about this issue and actually have rescued several such girls who went missing. We decided to donate 10% of our profits from the entire event to 'Missing Girls', an NGO that works the issue of girl trafficking. We might not be able to physically rescue such girls, but this contribution surely made us feel happy. 
Learning Outcome 7: Recognise and consider the ethics of choices and actions
Ethics, personally are very important to me. The ethics of a person could determine the level of trustability and genuinity of himself as well as his entire business. 
I strived to maintain an ethical code of conduct during the entire event. However, there are times when one's ethics may differ from others. I experienced this in my group during the event. 
Several businesses change their pricing strategies as per demands of the products. The price of the product might be discounted incase the demand is less or could be increased if this demand increases. This strategy personally is not very ethical in my eyes as two different customers are receiving the same product in two different prices. 
During the event, there was a high demand for my bags among teachers. Initially, I was selling my bags for 60 rupees each, however as the demand increased and more teachers were attracted to my bags, my group mates asked me to increase the prices of my bags to 80 so that we could earn more, and that we were also applying these strategies we learnt in our Business management classes. During that time, I agreed with them, however, on thinking about it later, I don't know if increasing the prices was the right thing to do. 
Overall, this CAS experience was one of the most fun filled and memorable one I ever had. It challenged me and taught me in many different ways, and I am glad I could apply my learnings from both my subjects into a real life experience.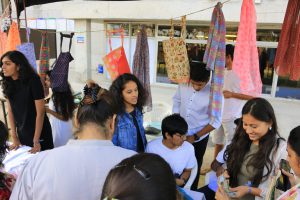 Link of the video: