Karma Kitchen can be described through its tagline, 'Growing in Generosity'. It is a unique concept of a restaurant, that is set up by a group of volunteers who serve with generosity. There are no prices on the food menu and one can pay the amount he/she wishes to, not for the food they've eaten, but for a stranger guest! Through this, Karma Kitchen also promotes peer-to-peer generosity. As volunteers are supposed to conduct the entire event, we were all divided into teams. I chose to be in the decor team as I am a creative person. I love to do decoration and it's my forte too. Through this event, I covered learning outcomes 1, 5 and 7.
I had never even been a guest at Karma Kitchen before but my parents had been guests to the event several times. Listening to my mother share with me the experiences itself was so pleasant, that I wanted to attend it too. As a guest, again, it was a great experience. The concept of this event, the volunteers, the ambience and of course, those strong positive vibes really fascinated me and inspired me to use my creativity for a good cause and be a volunteer at Karma Kitchen.
LO 1:
At the first volunteer meeting for Karma Kitchen, I was a little hesitant and introverted as everyone sitting around was new to me. I am naturally shy and find it difficult to communicate with new faces. As I knew this was my weakness, I decided to take a step and overcome it. I added my points to the meeting, specially about decoration. Most of my co-volunteers were much elder to me, so I thought my suggestions wouldn't be considered, but surprisingly all my ideas were heard with zeal and my points were considered. I was happy because everybody was given equal importance, despite their age and experience. This also helped me to open up more and get away with my weakness to some extent.
I knew my strength too. I knew that I could contribute the most in decoration. So, on being asked which team would I like to join, I said 'decor team!' without a second thought. Our second meeting was team specific and we decided to have this meeting on the venue itself. Karishma didi (a co-volunteer) encouraged me to conduct the entire meeting. It was the right time to take one step further towards overcoming my fear of speaking in public. I conducted the meeting, gave in ideas for the theme of our decoration, name tags, menu card, etc. The theme we freezed upon was Monsoon, which was one of the two ideas that I had given. I felt awesome!
By the end of the meeting, I was assigned to make menu cards and help in decoration of the restaurant the night before the day of Karma Kitchen.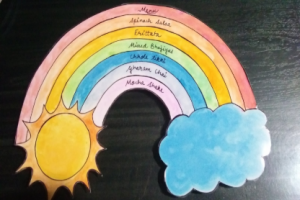 LO 5:
It was very important for us to work collaboratively in order to reach our deadline and decorate the restaurant as beautifully as possible. At school, it is not a difficult task to work collaboratively as I work with my classmates, the people whom I know in and out. But it was a little challenging for me here because the ones I was working with were strangers, and elder to me. Several times there was a difference of opinions, which would consume a lot of time to come up to a unanimous and a win-win decision. There were also times when somebody couldn't complete their assigned works and we had to take up each others work. It so happened that the person who was assigned the duty of making name tags for volunteers couldn't make them and I had to take up that responsibility too along with menu cards.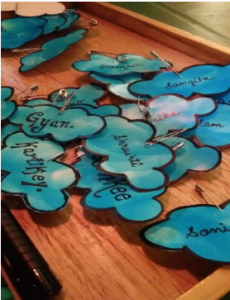 However, working collaboratively with my team brought a lot of open-mindedness in me. There were ideas which I don't think I could ever think of. We had to go for final decoration at mid night before Karma Kitchen as until midnight, the restaurant used to be open. The way all of us got together to give up our sleep and hang up all our decor was incredible. It is one of my fondest memory of this event.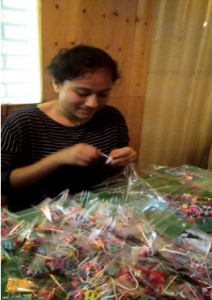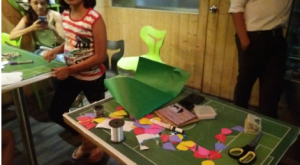 LO 7:
The government had recently introduced a plastic ban. As an entire team, we were determined to abide by this ban. We decided not to use disposable plastic plates, spoons and glasses. Instead, one entire sub team was formed for washing the utensils as we decided to use steel plates. This initiative really touched me as volunteers were ready to serve by any way they could, even if it was by washing the used plates and spoons. And above all, I was satisfied because we did not compromise on ethics.
My takeaways:
I majorly developed two learner profile characteristics during this activity
Being a communicator
As I've already mentioned before, I am not an effective communicator, especially while I have to communicate with a new set of people. However, as we had to work as a team in this activity I spoke up my ideas in opinions during meetings or otherwise. My co-volunteers really helped my develop this learner profile and I am very thankful to them.
Being open-minded
While working collaboratively, I generally give greater weightage to my own ideas and opinions and instead of understanding others views, I try to convince them that my ideas are better. However, this CAS experience has helped my develop open-mindedness and I have started giving a fair chance to everybody for put up and justify their opinions along with mine. I have learnt that the greater the perspectives, the better the decision.
During the week of preparation for Karma Kitchen, I found it difficult to manage my time as I was having a hectic week at school too. And one top of that, taking someone else's responsibility of Name tags made it more difficult. Thus, if I was supposed to conduct the same activity once again, I would like to make sure that enough time is given to all volunteers for preparation.
Overall, this CAS experience was super fun, and it truly brought a sense of enjoyment as it came with a lot of learning. We succeeded in making the restaurant look beautiful and people loved the menu cards too! I was elated.