Community Service sessions at our school were conducted for underprivileged children of some government schools. In these sessions, students were given an opportunity to explore some extra curricular activities such as dance, craft, cooking, frisbee, basketball, etc. These sessions went on for 6 consecutive Saturdays from July 14th to August 18th. I volunteered to help in teaching cooking to these students as cooking is a something that really interests me, however I have not been able to nurture this hobby. So this was a very good opportunity for me and I believed I would also learn something new during these sessions.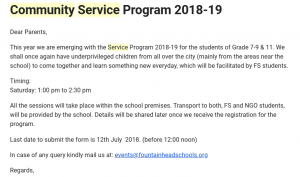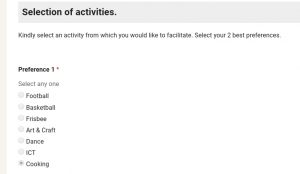 Learning outcomes achieved:
LO 1
As students we were supposed to work with were underprivileged students who were from government schools, so for about first 2 sessions, they were not very comfortable with communicating with us. Plus, they could only converse in Gujarati language. This became a problem for some students in our group of volunteers as everybody couldn't speak Gujarati fluently. However, as this language is my mother tongue, it became my strength here and I started to initiate conversations and quiz the students about the ingredients that were used to prepare the particular food item. During these sessions, I also worked upon my communication skills as I am a shy person and usually wouldn't go up and talk to people.
LO 3
Planning is an important part while conducting sessions like these. We were told which food item are we supposed to teach the students on which day, and as per the food item the ingredients were provided by the school. As volunteers, we wanted all our students to get a chance of preparing as well as tasting all food items. So, we planned the 90 minute slots for 6 days in that manner. First 5 minutes were dedicated to introduction of us (the volunteers and other helpers), the students and the food item that we are going to prepare. Next 60 minutes we used to prepare the food wherein everyone was involved in something or the other, whether it be chopping vegetables, preparing the dough or cooking the food. In the end, all of us used to sit together and eat the prepared food and we quizzed them about the ingredients used, etc.
Sticking to this schedule helped us to have a nice interaction with the students, teach them, and most importantly, wind up on time. Though there was a day when we had to teach them 2 food items, and things got a little messed us, but these learnings and lessons will surely help us plan better and stay more organised in the projects we take up in the future.
LO 5
Working collaboratively was very beneficial to us while conducting service sessions. We used to have large groups of students to cater to at once, and while cooking we not only had to make sure every student is participating equally, but we also had to make sure they don't hurt or burn themselves. We decided to split up into two groups and divide students too into two groups and work with them in separate kitchens so that there is less chaos. I did find working with some of my co-volunteers difficult at times as some of them were disinterested and wouldn't cooperate, however, more or less we could still run our sessions smoothly.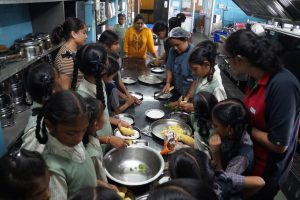 My Takeaways:
Conducting sessions like these made me feel extremely good within as I felt I genuinely did something for the ones who aren't as privileged as I am. I believe Service Sessions sent back all underprivileged students with a lot of learning and exposure to sports and activities that they might not even have heard about before, and I consider this as a small step towards their holistic development. I didn't only develop open-mindedness, but a reflective attitude too.