This event was conducted to show globalization. Our entire grade was divided into various teams like entertainment, food, logistics, fashion and tourism, finance and decoration team. I was in the team of the food. We had to come up with different food items that we would be selling. These dishes should also represent different cultures and so we decided we would sell: tacos, Pani puri, coco, ice tea, and red and white sauce pasta. I was in charge of making the pani puri and I had assigned every individual with a dish. We were supposed to bring the food for students in grades 7 to 12 as well as teachers. So, we came up with a strategy, decided the prices while considering the demand of each dish with respect to the students. We had to show how we used different subjects in Group 3 which included subjects like:- 
Economics was used to decide the price and quantity of dishes. 
Business Management was used to market our event as well as our stalls, we had put up posters of our stall everywhere in the school. 
ITGS was used while designing our posters.
Psychology was used to persuade people to buy our food items. 
On the day of the event, we were short of food and so we had to ask our parents to bring more of it. Deciding the quantity of the food was something that we all lacked on. But, we made profits out of which 10% was donated. It was a great experience as we learned how to deal with a massive crowd. 
Learning Outcome 3 – Demonstrate how to initiate and plan a CAS experience
It was very difficult to organize yourself since we were a group of only 5-6 members and a team leader, conducting and undergoing a food stall requires proper menu, an accountant, proper serving and checking food quality. Hence our group leader suggested us to divide and organized our work beforehand so that we don't face any problem. It is very essential to organize yourself because at the time we were serving our food there were few spill over since there was huge crowd standing in a queue, sometimes seeing such a huge crowd which was getting build up due to slow service provided some of our customers resorted to another stalls. Therefore it was very important to organize things before hand so that such difficulties could be eliminated.  
Learning Outcome 5 – Demonstrate the skills and recognize the benefits of working collaboratively
Teamwork is the key to success. We worked together as a team to overcome the difficulties. Our group leader divided our work according to the skills each possessed. Working in a team made it easier and we had plenty of ideas of what we could sell. This gave us a chance to think broader and satisfy everyone's demands. We were like each other's backbone and helped each other when any one of us had a huge group of customers wanting a specific food. Overall, being in a team that was cooperative made it easier for us to manage everything and provide with the best services. 
Learning Outcome 6 – Demonstrate engagement with issues of global significance
As mentioned above we were told by our teachers that 10% of the amount that we all earned will be donated to an organization: Missing Link Trust. Human trafficking has always been a serious global issue. This organization came to our school and informed us about sex trafficking and even created awareness about it through their app: Missing girls. We were moved by what this organization did, and so we decided to donate our earnings to them and be a part to stop human trafficking. 
Learning Outcome 7 – Recognize and consider the ethics of choices and actions
Working ethically is a very important part of a business, in fact, not only in business but also in our day to day life. We remained ethical at all times, even while deciding the prices. We were not greedy and neither we kept high prices to cheat on our customers instead we kept prices that were feasible to all which would satisfy both our customers and ourself. Even though we took care that no food item is wasted by anyone, us as well as the students and teachers. We maintained a hygienic environment as well as cleaned the place to remain ethical.
Overall this was a successful event and all our customers were happy and we are glad that we were able to show our learning from subject of group 3 and to present it to them. Also we were able to make good enough profit to help to stop human trafficking and donate our money to the charity.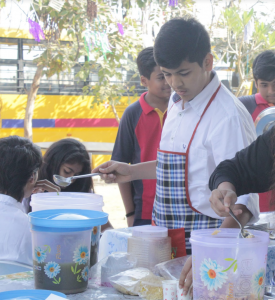 Link to our Global Odyssey – 
https://www.youtube.com/watch?v=xWzJfZejjHE&feature=youtu.be